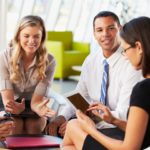 Not getting the results you want? Feel you can do better?
Growth-mindset leaders invest time in themselves to learn how to be an example of the change they want to see in others. Start with an introduction to coaching and a free initial coaching session.
Laura helps leaders and organisations develop the mindset, behaviours, and skills to succeed in today's complex and uncertain business environment. Areas in which she works are:
Developing capacity in leaders to influence change
Coaching teams to deliver innovative products in agile organisations
Resilience, leader development, and career transition

 

Bespoke training design and delivery
She offers a credible approach to helping leaders in complex organisations to transform themselves and their teams to 'become agile'. 
How She Works
Laura works in partnership with her clients to co-create tailored development plans that are measurable. She draws on a blend of approaches including solution-focused coaching, psychodynamic coaching, agile methods, person-centred/relational coaching, and Gestalt. Laura brings a systemic perspective into coaching to support leaders and teams in understanding the organisational forces that help or hinder performance. This systems perspective is an important component of a business coach's practice, however often overlooked in the coaching profession. 

Laura is a Professional Member of APECS, the Association for Professional Executive Coaching and Supervision, follows the APECS Ethical Guidelines, and holds an MSc in Coaching and Behavioural Change, Henley Business School, University of Reading.
Background
A coach, consultant, and trainer for twenty years in private- and public-sector organisations, across industry sectors, Laura's interest in coaching stems from a belief in the capacity of people to learn and grow at any point in life. Her interest in complex systems, relationships, and interactions is a passion and driver for her work as a coach and trainer.
Having followed a non-traditional path into software development, she held consulting roles in which she managed client relationships and influenced stakeholders in complex organisations. As a project manager and engagement manager, Laura was responsible for delivery of enterprise software projects for companies in oil and gas, retail, financial services, consumer products, travel and leisure, insurance, and IT professional services. 
Relevant qualifications
MSc in Coaching and Behavioural Change, Henley Business School, University of Reading (2018)
Institute Certified Training Practitioner, Learning and Performance Institute (2014)
Improvisation in Life and Work, Applied Improvisation Network (2013)
Agile Project Management (DSDM), APMG (2014)
Professional Scrum Master Level 1, Scrum.org (2014)
Please visit www.futurefocuscoaching.org/client-feedback for client testimonials. A full CV is available on request.
Next Steps
Contact us to find out more about how leadership coaching can help you build resilience and gain focus. Ask for a free initial coaching session, which can be done via Skype or in person.